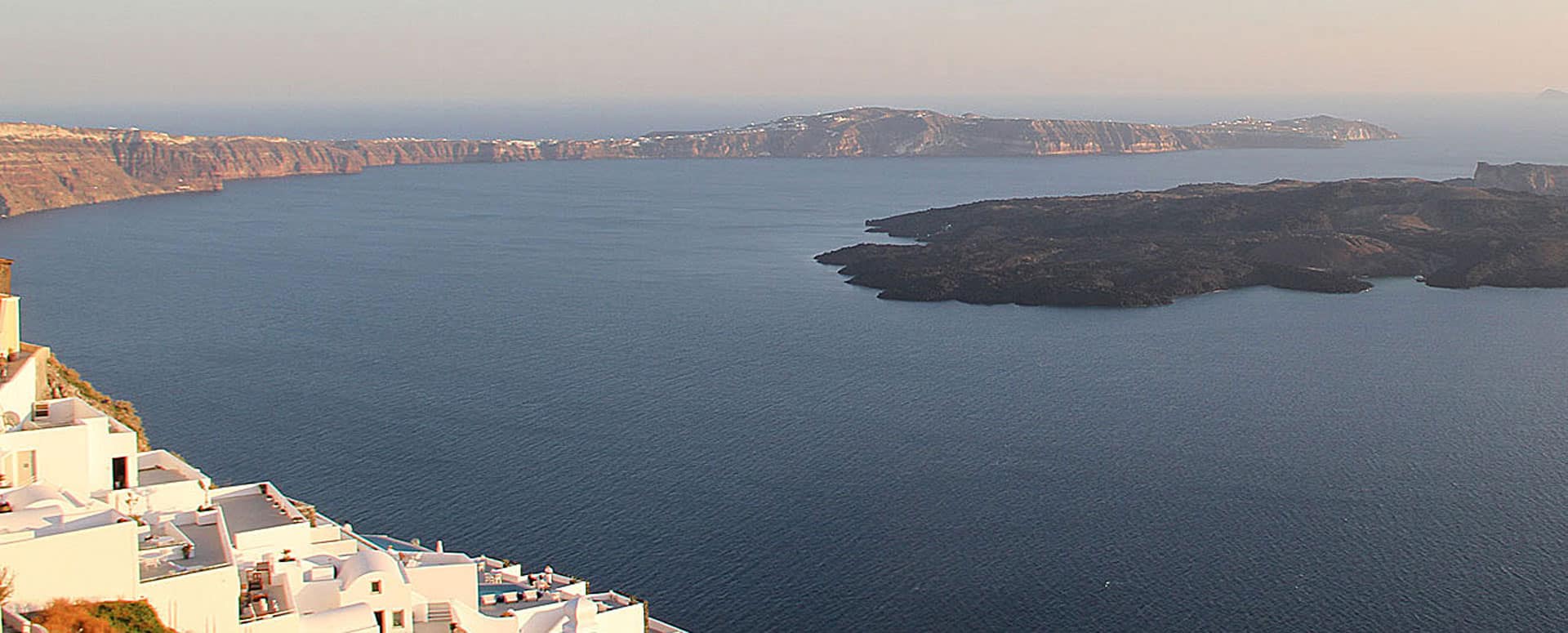 The island of Santorini is one of the most magical places in the world.
The first inhabitants were pre-Hellenes who arrived there in 3.000 B.C.
They called the island Stroggyli (which means round) because of its shape. Later when the Phoenicians colonized the island, attracted by the beauty of its landscape, they named it Kallisti (which means the most beautiful).
The Dorians from Sparta accompanied by their king Theras inhabited the island in 1.115 B.C. and they changed the name to Thera. Around 1.200 A.D., under the Frankish occupation, it took the name Santa Irene, after a small church in Therassia, hence the name Santorini.
The massive catastrophic eruption of the Volcano in 1450 B.C. meant to be forever engraved in the history of mankind. The greater central part of the island, about 80 sq.km, collapsed to the bottom of the sea and the waves rushed into cover it forming a gigantic basin which is now called Caldera. During the massive eruption the whole of the Aegean darkened, the waves rose 250 meters high and with a speed of 350 km per hour reached the island of Crete and destroyed the Knossos & Minoan civilization. Unproven theories suggest that this event may be related to the sinking of Atlantis.
The eruption resulted in the abrupt halt of a fully developed rich society and a unique flourishing civilization, influenced by the Minoan culture, which is depicted on the wall paintings, and the rich findings of the excavations in Akrotiri.
In ancient times, Thera submitted to the Persians then became an ally to the Spartans and by 426 B.C. it became part of the Athenian domain. Later it was conquered by the Ptolemies, the Romans, the Byzantines and the Francs. In 1579 Santorini was occupied by the Turks, and finally in 1832 the island became part of Greece.
Santorini today has a population of 10.000 inhabitants. The capital of the island is Fira. One of its most elegant villages is Oia (pronounced Ia), well known around the world for its unique sunsets. The black beaches, the harsh rock structure of the cliffs and the volcanic colours make Santorini an exceptional place to visit.
In Caldera, 400 meters deep, still exists a gigantic crater of 10 km wide. The architecture of the island is closely related to the needs of the people and the beauty of a Cycladic island. The visitor is impressed by the traditional houses built inside the rocks presenting their lively colours. There are over 300 dome shape churches all over the island, and very few of the impressive mansions that existed before the terrible earthquake of 1956.
Santorini is enchanting and romantic therefore couples from all over the world come here for their honeymoon. Blue Dolphins hotel has a special suite for honeymooners!
Having completed this short trip through the paths of history we wish you an enjoyable stay in our unique island.