Semi Private Catamaran Cruise
If you love the sea, then a day out on a catamaran is a chance to lay back and do absolutely nothing. Enjoy a 5-hour morning or sunset cruise along the breathtaking coastline of Santorinian Caldera. Collect amazing memories sailing by the Venetian Lighthouse, the Red and White beach, the Indian Rocks and the Volcano crater as well as the Hot Springs (where you can take a dip if you feel like it) and other sightings.
A Catamaran cruise includes transfers to and from the hotel, delicious menus, and an open bar with local wine and beers. Maximum capacity 8 couples.
Private Catamaran/Motor Yacht cruise
Explore Santorini underwater with a snorkelling or scuba
"The best Value-for-Money private experience in Santorini".
Take your friends along a journey of fun, surprises, and relaxation. Stop at the most famous beaches, relax at the hot springs and watch the sunset with a refreshing beer or a glass of local white wine. Whatever the occasion is we can host your dreams on board! The perfect setting for your parties hosted by an experienced crew whether you wish to celebrate a special occasion or simply enjoy your cruise along the volcanic caldera. Relish moments of authentic Greek cuisine. Reach all the secluded bays and coves and plunge into crystal clear waters away from crowds. Enjoy your BBQ dinner with a sunset background to remember.
Max capacity 10 passengers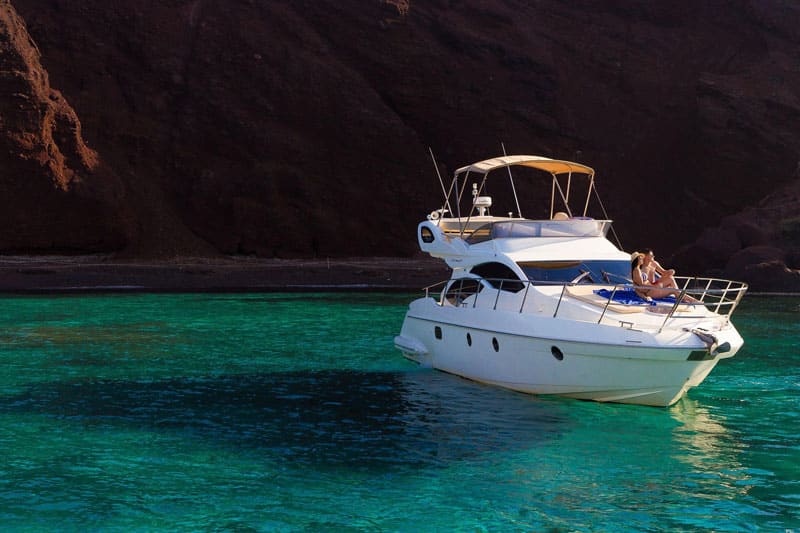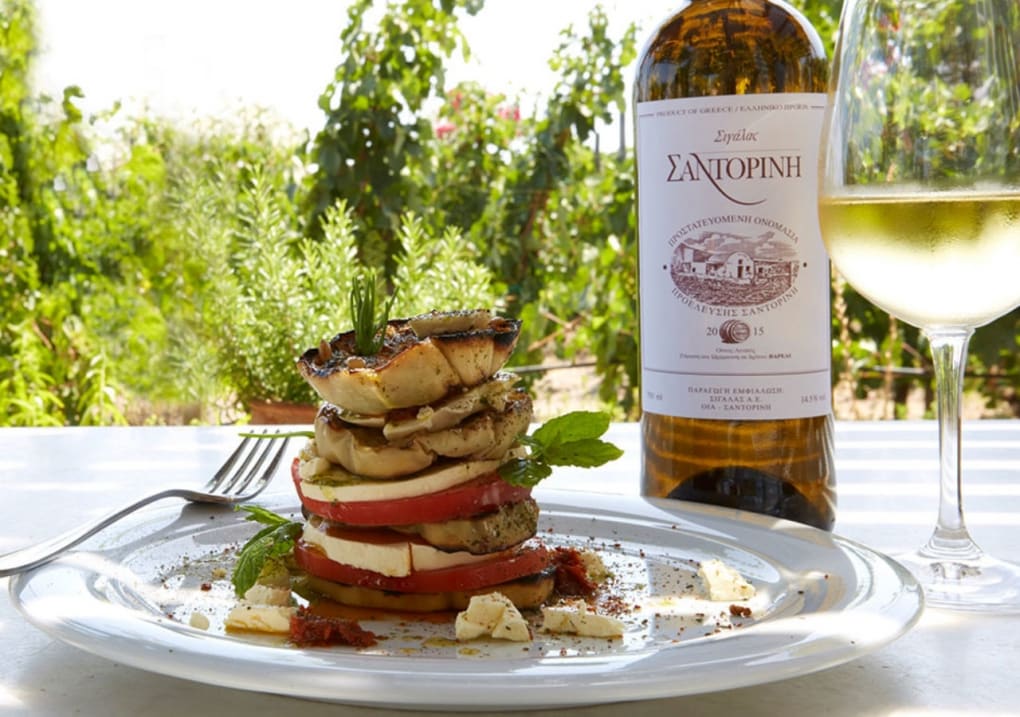 Wine tour
An island where grapes have been grown for more than 3000
Enjoy the volcanic wines of Santorini as you tour along the most popular wineries of the island on a half-day wine trip. The excursion lasts 4,5 hours and you can visit 3 traditional wineries & vineyards in Santorini and enjoy tastings of 12 different types of wines served with local cheese plates. You can book this tasty tour for mid-morning or late afternoon.
Max capacity 8 people
Cooking Classes
Dotted around the countryside one can find small farms with Cooking lessons at Petra Kouzina are a Greek gastronomic experience where you book, taste and enjoy warm hospitality in a traditional home. The meal is shared with other guests and at the end you receive a menu with the recipies.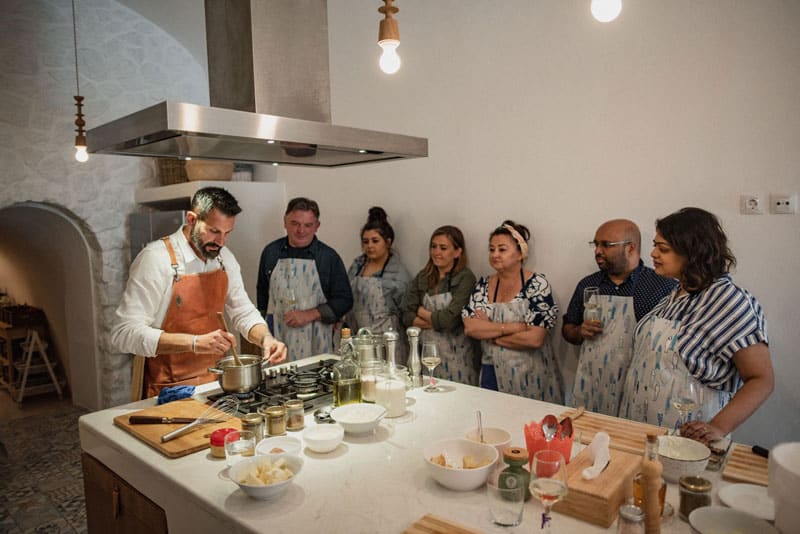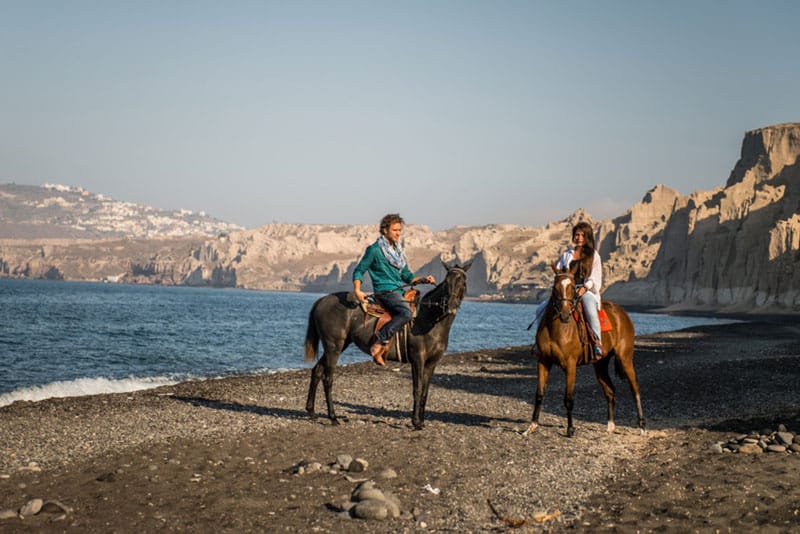 HORSE RIDING
Experience Santorini through specific suggested routes while the magnificent view of the beaches and the stunning coastline of the Caldera riding horses safely. The Tourist riding combines sports with entertainment and it is an activity that attracts experienced and beginner riders alike. Therefore, skilled coaches are always close to our guests, ensuring the safe outcome of each excursion. The island is an ideal destination for horse tourism as its unique nature makes it a paradise to explore. Reference point on these routes is the magnificent view of the beaches and the stunning coastline of the Caldera.
THE GREEK WEDDING SHOW
A different show in Santorini and nothing like anything you ever saw! A unique Musical that engages couples, children, families and friends with the local culture in an entertaining way. The Greek Wedding Show is not only a "Greek night" but an interactive performance with actors, dancers, singers, musicians and you. Celebrate the greek culture through the music and dance. Enjoy plenty of wine and the famous Greek mezedes. Open from May-October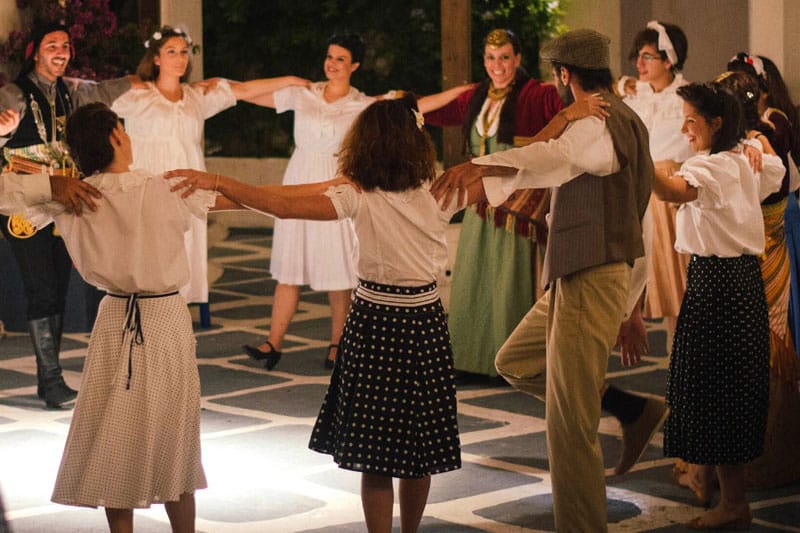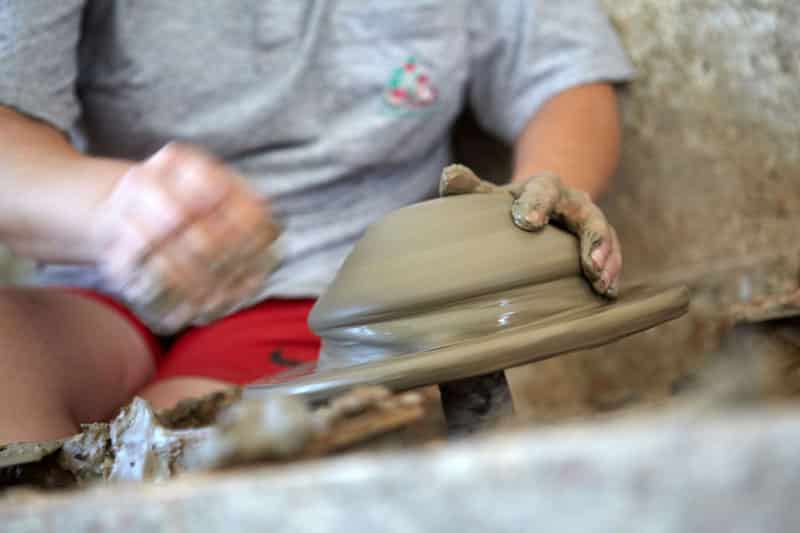 POTTERY CLASSES
If you find yourself on Santorini, treat yourself to a creative outlet during your vacation – relax and try something new. Alone, as a couple and/or including children, holiday makers are welcome to enjoy a studio experience as part of their planned trip to Santorini.
PRIVATE ISLAND TOURS
Enjoy a tailor made tour in a comfortable luxury mini bus around the idyllic settings of the island and plan your own customized adventure. Decide on your own stops or follow the suggestions of our private driver on the sights worth visiting. From day time picturesque villages to spectacular and breathtaking sunsets, they are all there for you to discover and enjoy while on tour. This excursion lasts 5 hours approximately and the pick-up time is scheduled upon request.
Max capacity 8 people
RENTAL CARS/SCOOTERS
When you're on holiday, every moment is precious. Although Santorini has a local bus service, available routes and schedules are limiting. Hiring a taxi for a full day tends to be more expensive than car or bike rental.
Blue Dolphins can arrange for a car, scooter or ATV rental at the port and airport, or our hotel.
Exploring the island with Your Own Wheels is the best way to see Santorini and preserve your independence.
Contact us for information
Ask at Reception and Book Now before your arrival