Our Hotel in the Santorini Island
Santorini is an island of legendary beauty.
Mysterious, magical, steeped in myth and history, Blue Dolphins Suites and Villas are situated in the heart of this fairy-tale destination.Blue Dolphins combines the best of both worlds: located in the tranquil village of Firostefani, it is but a short distance to the hustle and bustle of Fira, the capital.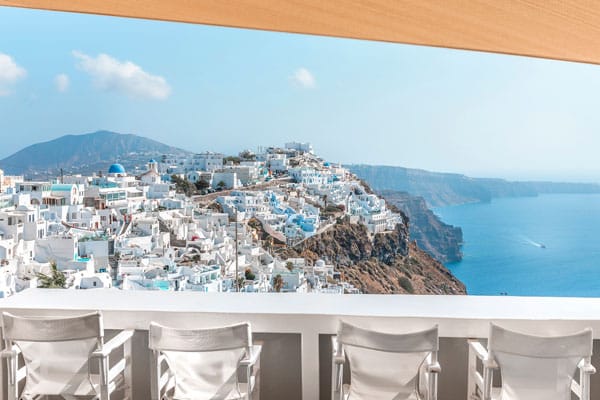 The Perfect Place for Your Stay
Hues of blue and white, in keeping with Cycladic ambience, are visible throughout.
Romantic, Jacuzzi and Honeymoon Suites rest on the hillside cliffs opposite the volcano.
Glorious views of the blue Aegean are all-encompassing.
Dazzling sunsets stretch across the horizon. There is truly nothing quite like it.
Courteous professionalism with a smile is our motto.
Blue Dolphins Management and Staff are in love with Santorini. We hope you will fall in love, too.
Hotel Accommodation | Apartments & Suites
A splendid getaway from the volcano aegean, sun and sea
Breakfast in the Blue Dolphins Veranda with a view to Caldera
Taste the genuine flavors of our island
Breakfast is served at our shared veranda offering breathtaking view to the caldera, volcano of Santorini, Aegean Sea and the village of Firostefani.
For those guests who prefer the privacy of their balcony breakfast can be served in the room.