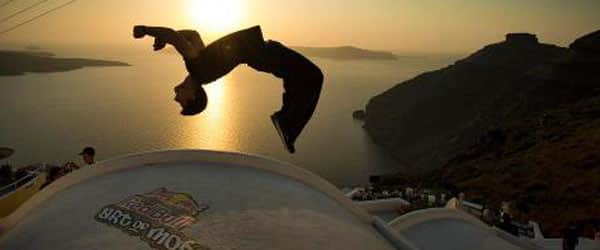 Red Bull Art of Motion Santorini 2015
22 Athletes, the best in the world will be in Santorini
for 4 days, 1st-4th October 2015.
Continuing the tradition of free running competition begun in 2007, Red Bull Art of Motion makes the journey for a fourth year to Santorini, in 2015. The competitors will amaze with their skillful and creative blend of free running, Parkour, martial arts and gymnastics, set against the unbelievable scenery of Santorini' cliffs. The rooftops, terraces, swimming pools and domes of Firostefani (called a "parkour paradise") will comprise the competition obstacle course, in a completely natural free running environment, with no extra construction required. This year and for the first time the track race will be in Oia, 3rd August- 16.00! Be there!
The best freerunners of the world will return in Santorini for the amazing Red Bull Art of Motion !
We are happy to assist in Accommodation deals referring to the Event by:
a. Offering special discounted prices for the period 20th September – 10th October to all visitors of the Event.
b. Also by selecting special boutique hotels for the guests and visitor of the Red Bull Art of Motion 2015.
Call us at +30 22860 23173 for discount hotel bookings! www.grandview.gr, www.bluedolphins.gr
For further information about the event visit www.redbull.gr & www.redbullartofmotion.com